The holidays are a great time to reconnect with family who we don't see all the time. It also presents an opportunity to check on loved ones who may be sheltering at home because of COVID. For older family members with dementia, the holidays can be especially challenging. 
The bustle of holiday activities and changes in routines can be confusing for those with dementia.   Fortunately, the most wonderful time of the year can also provide opportunities to celebrate the holidays while reconnecting them with happy memories of the past. Here are some great ways to make your loved one feel welcome and jolly this holiday season.
Make an old family recipe
Food is the universal language, with the ability to bring people back to a specific place and time in their past. As we mentioned in our Thanksgiving post, familiar tastes and smells are one of the best ways to remind an older family member of past holidays. So, why not find the old family recipe for Christmas cookies, or scalloped potatoes? These dishes are not only delicious, but they also let family members spend time together over food and shared experiences.
Set up a quiet and relaxing space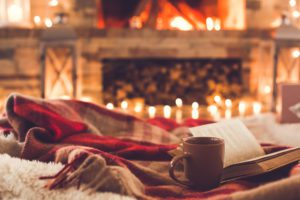 The holiday season is often one of the busiest times of the year. Relatives come and go within a few days, students are home from school, and everyone has a party or two to attend. For older folks with dementia, all the disruption can be disorienting and upsetting. That's why it's important to make a space slightly removed from the hustle and bustle of the holiday where they can relax and reflect.
Tell holiday stories from years past
Nothing lights up the holidays like a good family story. For the younger members of the family, it can be a window into their history, and for older folks it offers the chance to relive the times with family that might not be present. For older adults with dementia, seeing photos and sharing stories that utilize their long-term memory is an effective way to keep alert and active. It also helps build a sense of communal history, bridging the gap between young and old, children and parents.
Sing songs together
Like food, music can bring memories to the forefront of our minds. From caroling around the neighborhood to singing at church or around a fireplace, songs remind us of friends and family. Additionally, singing is a calming and engaging activity that gets everyone in the holiday spirit. For those folks with cognitive `impairments it can also provide a way to remain in the moment without feeling overwhelmed.
Remember their routine
For adults with some memory loss, keeping a routine is a reliable way to stay active in their day-to-day lives. But with the busy nature of the holidays, a routine can be tough to maintain. To balance that disruption, try talking to your relatives and friends about what time your loved one usually has meals or does activities. Lining up your schedule with their routine can go a long way toward a good interaction.
The holidays are always better with family and friends, even when a pandemic means the gatherings need to be smaller. We can all make an effort to be as inclusive as possible and to provide a positive space for people with dementia. Enjoy your holidays and stay healthy and well.