Many older adults are limited in their options when it comes to home care and nursing services. For elders who need a range of services to keep themselves healthy, professional home health services can be a game changer. But a team that supports elders with care every day can be expensive, and most senior Medicare plans do not cover it. While many older adults don't require inpatient behavioral health services, socialization is important to promote their emotional well-being. That's where PACE-RI comes in. Our health plan provides services that empower elders to manage their wellness while living safely at home in the community.
Getting Better Nursing Care at Home
For families that have limited time to spend with their older loved ones, because of work, children or distance, assistance with daily care can provide critical help. It allows elders to maintain their independence for a longer period of time while reducing strain on caregivers.
The comprehensive health services that PACE-RI provides bring together all aspects of senior care, some of which wouldn't be covered by a routine Medicare plan. That's because the PACE model focuses on a holistic approach to health, including preventative and team-based care. Some of those services include: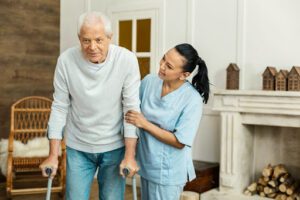 Primary care
Day center services
Home health care
Transportation
Medication management
Rehabilitation and Physical Therapy
Discover Professional Home Health Solutions
Among the health care options available to seniors in Rhode Island, PACE-RI leads the way in innovation. Using a team-based approach, our caregivers –from bus drivers to food servers – provide feedback on changes in participants habits, health, and mental acuity in daily meetings with seasoned geriatricians.  We weigh that feedback in combination with observations from family and external caregivers to adjust dynamic care plans. This real-time adjusting allows us to provide the right care at the right time. For most participants, that means adjusting the care that they receive in one of our conveniently located health centers.  They're located in:
East Providence, RI
Woonsocket, RI
Westerly, RI
Newport, RI
These PACE sites are staffed by caring professionals who have the knowledge and expertise to maintain your loved one's health. Knowing that families want to avoid costly and stressful inpatient hospital stays, a proactive approach is our priority. PACE provides behavioral health services to help elders maintain their social connections and minimize exterior risk factors like smoking or substance abuse.
No matter the need, PACE-RI has the tools to keep your older loved one healthy. From engaging programs at the day center to visits with specialists — and everything in between — our team will go the extra mile for our participants. That's why the majority of PACE participants say they would recommend the plan to family or friends. Find out what sets us apart from senior Medicare plans by calling our enrollment team today.