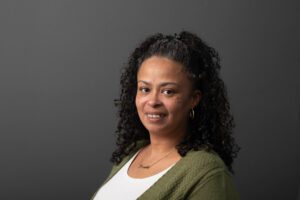 Devosha McCray rarely has a dull day on the job. As a PACE-RI enrollment associate, based in Woonsocket, Devosha is hardly ever at her desk.  Whether she's at a senior fair, meeting with a residential service coordinator at a high-rise apartment building or introducing herself to a family, each day is different for Devosha.
In her role at PACE, Devosha is the link between our organization and the community.  She works with potential enrollees and caregivers to assess whether they might be a good fit for PACE-RI, and explains the benefits and requirements of the program.
"Woonsocket is a world of its own. The family traditions here are deep, and this community is strong so a lot of my referrals are word of mouth," she says. "I listen to people, and then talk about the support that PACE has to offer them."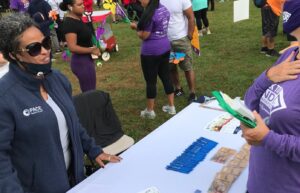 According to Devosha, her approach is very educational and supportive, especially when it comes to caregivers. "I'm here to help them. Caregivers need the services that PACE has to offer them. It gives them hope," she says.
Devosha knows what it is like to be a caregiver because she is also one.  In addition to working full-time at PACE, Devosha provides care for her mother and understands the complexities that come with helping a struggling parent. Her intimate knowledge and personal experiences give her a special appreciation for the level of care that the PACE program can provide. "Having that support makes so much difference. The staff are so quick and reliable [at PACE].  It gives families peace of mind," she says assuredly.
As the state relaxes COVID restrictions and communities begin to reopen, enrollment associates like Devosha are excited to get out and meet families in their homes and at events to let them know how they can benefit from PACE participation. "We have a different story every day," she says. "I like the adventure."