The clinical team at PACE Organization of Rhode Island is a diverse group of professionals, both in terms of their personal stories and their medical expertise. The team includes nurses, doctors, therapists, CNAs, dieticians, and geriatric specialists of all sorts. Every member of PACE-RI's staff has a specific roll to play in the health and safety of our participants. PACE participants are a diverse group too. Here are a few facts about our adult population: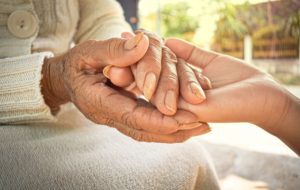 33% have a primary language other than English
90% are dually eligible for Medicare and Medicaid
35% have a dementia-related diagnosis
89% have a behavioral health diagnosis
A Conversation with PACE-RI's Nurse Practitioners
When it comes to clinical staff, PACE-RI's nurse practitioners are real life superheroes. They take on the challenges necessary for the organization to succeed, from managing participant care plans to making home visits during the week. As primary care providers, they address participants' long-term concerns, and manage a team of nurses in the community. We sat down with two of PACE-RI's nurse practitioners, Kayla Gillis and Patricia Connerney to get a better idea of what they do and how they do it.
Q: As a PACE NP what is your daily routine like?
Patricia: We see a two to three patients in the clinic, and we visit homes three or four times a week. It's a constant communication between us and the nurses to keep everything running smoothly.
Kayla: Participants have their preferences and needs, and it's our job to balance those needs.
Q: How do you see the role of nurse practitioners in the health of the community more broadly?
K: We do everything other primary care providers do, and then some. Communicating with nursing teams in the community constantly and addressing needs of participants.
P: We have the nuts and bolts types of skills, on top of doing primary care. We know what the nurses deal with every day, and how to complement their skill sets.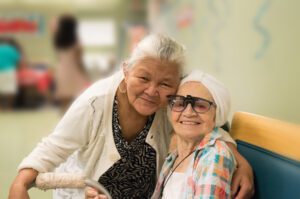 Q: What about the personal impact you've made with PACE's population?
P: We all know that people live better and are happier when they are at home. Being able to live in the community means so much to them. Ultimately, we give them another chance, and without PACE, they don't get that chance. We have a niche; our job is to keep them living at home and healthy, and people are very committed to make that work.
K: Yeah in a lot of ways we provide the social network that our participants just don't have, and keep them active in the community.
Q: What is something that you are particularly proud of from the past year?
K: We had a participant who was homeless and not taking her insulin. She was really struggling to get by. Now she gets weekly nursing visits, her diabetes is under control, and she's very happy about that.
P: The person that makes me particularly proud is a participant who is getting treatment for his recent cancer diagnosis. He is a caregiver for his wife and wants to continue to be the anchor for his family, despite his illness. Our nursing staff checks on him every day, and being part of that team has been amazing.