Everyone needs ways to keep themselves active during the day. This is especially true of older adults who are no longer working. Taking part in activities and tasks throughout the day creates a sense of purpose and fulfillment for seniors. It also helps maintain a healthy lifestyle and better cognitive health. These benefits are a by-product of the interactions and relationships that folks form when sharing an activity or meal. Here at PACE-RI, our day center promotes those interactions from the start to the end of the day. So, let's look at how our team ensures that everyone gets the right amount of socialization and care.
Which Day Center Activities are Right for Your Loved One
PACE participants have a wide range of needs, preferences, and abilities. That variance makes our population wonderfully diverse, but it also means that there is no single activity that will suit everyone. In that regard, finding the right way to engage each participant is vital for their enjoyment and continued growth. That's why we offer a variety of activities from art to music to games and dancing. Some activities include:
Painting
Dancing
Card games
Floor games
Drum circles
Arts and crafts
Our adult day center staff care deeply about creating a space that all participants can feel welcome and engaged. That's why we take time to plan our schedule of activities from one week to the next, and take input from participants.
Meals Made Fresh Daily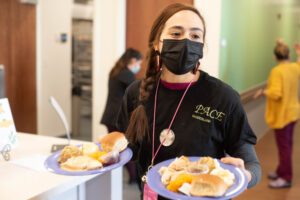 We know how important it is to have a well-balanced diet. The food service team at PACE-RI strives to provide healthy and delicious meals to participants in the day center every day. These meals are approved by the care team at PACE, assuring a high level of nutrition and meeting all dietary needs. Breakfast and lunch are served daily in all our adult day centers. You can attend a PACE-RI adult day center in East Providence, Woonsocket, Westerly, or Newport, RI.
Making Every Day Special
You might think that going to PACE's day center would be a routine or boring way to spend the day, but nothing could be further from the truth. The life enrichment staff are creative and outgoing professionals who take pride in keeping things fresh and exciting. Whether participants are celebrating the latest holiday or learning a new dance, there is always something going on in the day center.
Lasting Friendships in the Day Center
Making connections is one of the most important aspects of attending the adult day center at PACE. Participants have the opportunity to meet other adults with similar interests and cognitive abilities, building relationships that last into later life. Our clinical team takes a holistic approach to care, including behavioral health and social well-being. That means prioritizing human connections for participants of any skill level.
No matter what your loved one would like to get from an adult day center program, we have it here at PACE. Take a tour of our facilities to see for yourself and find out what we can do for your family.