David is a PACE participant in Westerly who really enjoys coming into the day center.
"I love the activities we do, things like trivia keep you interested, and the exercise is great," David says. He enjoys chatting with the life enrichment staff at the day center as they lead daily activities such as art classes and music sessions.
"Teresa keeps us engaged; she does a great job. She manages to keep everyone involved. It seems like there aren't enough hours in the day to do everything she has planned."
Since joining the program in 2020, David has increased his time in the day center from twice a week to all five days. And it's not just the activities that he enjoys so much.
"Before I came here I was home a lot, and I didn't have transportation to get to medical appointments. Without a car it was hard for me to get out in the community," David explains. "They got me new glasses, which I wasn't able to do with my old health plan. Now I don't need those old readers," he adds.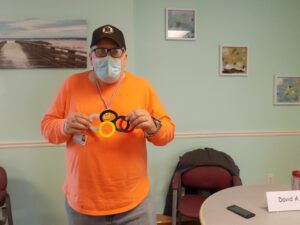 Originally from Coventry, David now lives in Westerly, has become an advocate for PACE Westerly's health program.
"There's a woman in my building who has arthritis and has trouble getting around. So I talked to her about PACE and now she's on board. She has really benefited from the program; I knew she would," he nods. David also had good words for the clinical staff in Westerly, including the Melissa, PACE Westerly's lead CNA.
"Melissa helped me with meals and shopping during COVID, and she always has a good attitude. She really goes above and beyond," David says.