With an active day center and an excited group of participants, PACE Westerly is an upbeat place to be on Friday mornings. On a recent visit, the painting group was in full swing, as participants received pointers from the art instructor who moved around the room. At the center of everything was Teresa Cummings, life enrichment lead, who moved from table to table asking questions and encouraging participants who painted.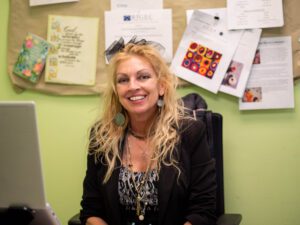 "They're so willing to jump in and try something new," Teresa explained. "To see how excited they get and the joy on their faces just makes me so happy."
Teresa has brought new energy to day center activities in Westerly. She has helped PACE partner with other local organizations like Get Fired Up, a pottery center in Westerly, which recently hosted a pottery painting class in the day center.
"They really loved it," said Teresa, about the Get Fired Up participant experience. "We have some really talented participants here, whether it's painting, woodworking, drawing, or something else. They have a great time being creative." Those types of partnerships and opportunities are part of what drew Teresa to PACE, she says. "PACE is different because we have more options. We have almost an endless variety for our participants."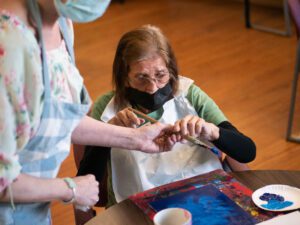 Teresa also works hard to encourage participants to open up and share their passions with others. It helps participants find common ground amongst themselves and develop friendships. She's especially proud of the bond that has grown between a group of gentlemen in the day center.  It took some time, but their bond has grown close over time.  "Now to hear these guys talk about their past and laugh and joke makes what I do so worthwhile – how could I not love what I do?"
Over the summer Teresa plans to continue to expand the offerings at PACE Westerly by bringing new guests to the day center. "I can't wait to plan the next thing," she explained. "Which volunteer musician can I get to play here, or can we get a chess club together?"
Asked why she likes her job, Teresa laughed and said, "I don't think I could have picked a better job. I know I'm in the right place; this is what I was meant to do."