Families around the country are grappling with the question of how to handle nursing home care for their elderly loved ones. As parents and grandparents get older and need more help to maintain their function, the complexity of care they receive also increases. For many families, that care can be too difficult to provide for themselves.
Without professional health services at home, older adults may struggle to keep living there safely. But if they don't want to live in a nursing home, making medical care available to them on a regular basis can be costly and overwhelming. That's where a program like PACE can help. We fill in the gap that caregivers can't cover by providing day center and health services to adults who are 55 or older. With nurses and doctors on staff to assess and manage the needs of older adults, the PACE program is a safe and welcoming alternative to nursing home care for your older loved ones with complex medical needs.
Health and Levels of Care
As adults grow into their golden years, their health needs change. They begin to lose mobility, and other functions can deteriorate at an accelerated pace. Some adults with complex conditions find themselves unable to live alone.  They need assistance with activities of daily living such as bathing, getting dressed, or feeding themselves.  These adults need a higher level of care, commonly referred to as nursing home care. From nursing visits to medication management, there are a lot of steps to ensuring elders remain healthy and nursing homes deliver those services.
But for aging adults who qualify for nursing homes, sometimes it isn't the best option. They would prefer to keep living in their own homes.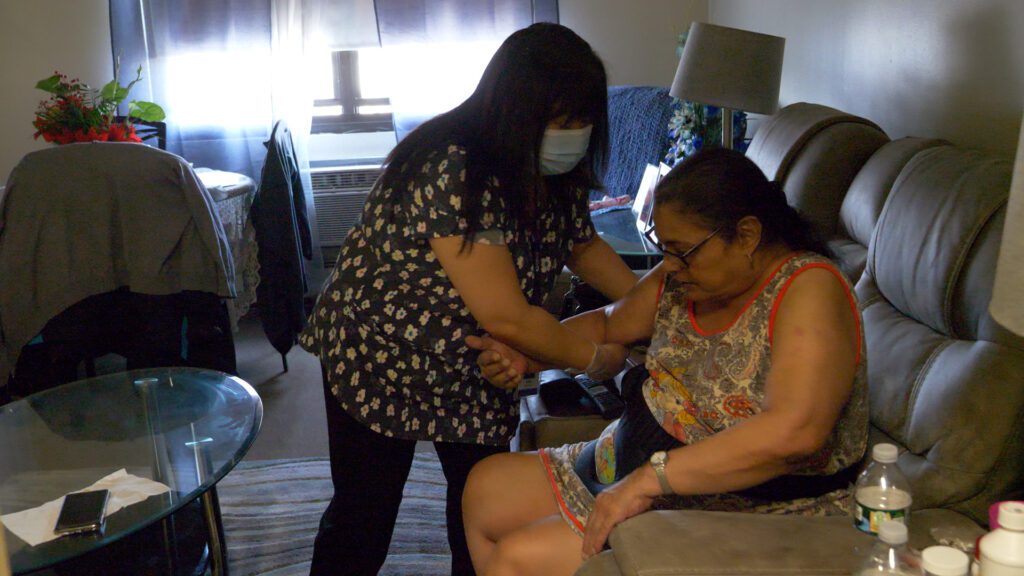 A PACE homemaker helps a participant around their home.
PACE is medical provider and insurer that provides an alternative to those who qualify for nursing home care. Our organization takes a broad approach to the care that we deliver to participants every day with the benefit of every care touchpoint being overseen by a team of experienced geriatricians who specialize in the wellbeing of older adults. They know what to expect and have experience addressing the specialized needs of people 55+. PACE geriatricians work with a health team that is comprised of experts from a wide range of disciplines, each with their own recommendations and advice, from occupational therapists to mental health experts. That level of detail and care coordination allows our participants — who might otherwise need nursing home care –to remain living at home.
Finding the Right Care for Your Family
Health plans are complicated and can offer a huge range of options to their members. Choosing the right health plan for an older adult can be tricky, especially if that person needs a high level of care. Here are just some of the services that you might need to look for in a plan:
Primary care
Prescription management
Rehabilitation
Nutritional assistance
Nursing visits
Transportation to doctors' appointments
Specialist visits
Laboratory testing
Nursing home care will often cover several of these services, with facilities providing varying degrees of assistance. For families who don't have the time or skills to coordinate their parents' (or grandparents') care plan because of distance, language barriers, access to transportation of the limits of full-time employment, nursing homes are one option. However, if you still are able to provide a helping hand while your loved one is at home, PACE can be a great choice. Partnering with caregivers, PACE's clinical team offers the experience, tools, and qualified care to keep seniors with complex medical needs living healthy and safely at home.