Dr. Mark Zeller has been around the world and back. His travels practicing medicine as a primary care physician with the US Navy took him to Guam, Japan, and finally Newport, RI. That brought him to a geriatric medicine program that took a different approach to care than he had come to expect. The PACE program in Rhode Island was Mark's chance to interact with community members and staff who had a broad range of experiences and skills to offer. He knew it was the place he wanted to practice next.
"Medicine is often a one-size-fits-all approach, which doesn't work with older adults. These patients have a range of problems that can't be addressed by simply prescribing and counseling them. That's part of what drew me to PACE; it's a team approach to care," says Zeller.
Having spent more than a decade in the US Navy, Zeller provided primary care to his share of retired servicemembers both overseas and here in RI.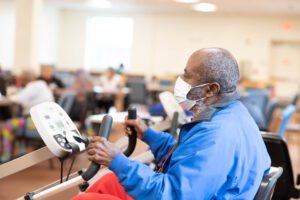 "In the navy we have older reserve members and retirees who rely on us to maintain their health. Especially in Newport where people like to retire, you see a lot of patients in their 80's and 90's."
That experience helped prepare Mark for a geriatric medicine training program that he attended at Brown University in Providence. There he connected with local seniors and found he could make a difference in the community. After completing a rotation with PACE-RI's Chief Medical Officer Dr. Gyurmey, Zeller was convinced this was the path for him.
"PACE is trying new things and always innovating," says Zeller. "I see this as an opportunity to help provide primary care in a new way, a broader approach. As a doctor that's a lot to look forward too."